Hockley to exhibit at PestExtra 2021 online show
05 February 2021
Hockley International is delighted to announce its attendance at PestExtra, the biggest digital pest management event of the year, hosted by the British Pest Control Association.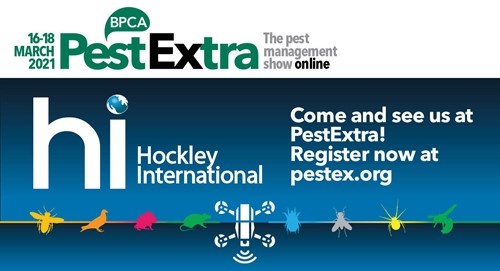 With large, live events still restricted, PestExtra will run on March 16th -18th as a three-day digital conference and tradeshow, all accessible from the comfort of your home or office. The event will bring together thought leaders, public health pest experts, suppliers and pest control professionals. You can register to attend at: http://pestex.org/  
Hockley's commercial team including Peter Rosevere, George Allison and Patrick Lane will be present at our 'stand' and available on the three days to discuss our range. At the event we will be featuring the Domobios Bed Bug Trap, a ready-to-use bed bug monitor trap that represents a new innovation in the control of bed bug populations.  
As face-to-face meetings have not been possible in recent months, the team are especially looking forward to connecting with our current customers and industry contacts at the event. They will be on hand for conversations and attendees can visit our stand for a live chat and schedule a meeting, with the relevant team member, very easily, from their desktops. 
If you are planning to get involved in the event, please visit Hockley's virtual stand to discuss your pest control challenges and any aspect of our range.
For any questions about the event contact us at sales@hockley.co.uk