Hockley Announces New Product - Hi-FUMOST
27 July 2020
Hockley International is delighted to announce the launch of a new product, Hi-FUMOST. It is a disinfectant smoke generator, ideal for any business where hygiene is vital. A bacterial, fungicidal and virucidal disinfectant containing Ortho-PhenylPhenol (30%), it is an effective treatment against viruses, bacteria, mould and yeasts in any enclosed area.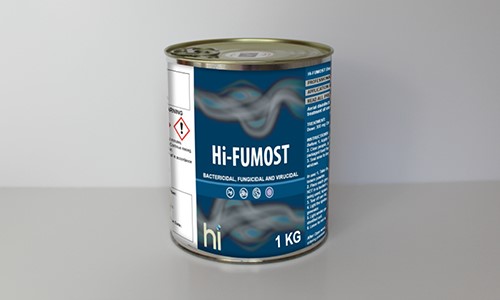 Hi-FUMOST pre-dosed tin shown here in 1000g size
This aerial and surface disinfectant is designed for use in domestic, medical, agricultural, commercial and industrial premises and has a proven efficacy against major pathogens. Hi-FUMOST is ready to use in pre-dosed tins (in a range of sizes) with no mixing or equipment needed and reaches inaccessible areas for thorough treatment. It has low operator and animal exposure, and low groundwater contamination. It also offers consistent particle distribution (from 5μm to less than 0.1μm).
Hi-FUMOST is available for use in:
Animal health (farms, animal breeding facilities, kennels, poultry sheds and hatcheries).
Storage areas such as silos, feed mills, machinery and vehicles.
Food industry: for controlling bio contamination and fighting against pathogenic food poisoning organisms.
Public health: for treating mould growth in gyms and pools, hotels, ambulances and public buildings.
Hi-FUMOST is a crucial part of any disinfection program. The smoke generators are an effective disinfectant against 99.9% of well-known bacteria and viruses.
To find out more about Hi-FUMOST, download the brochure here or get in touch with us at sales@hockley.co.uk to request pricing.