Success for Hockley Agro UK at CropTec!
17 December 2018
We at Hockley Agro UK, Hockley International's associated company, are very happy to report on the success of our recent attendance at the CropTec 2018 exhibition, held on the 28th and 29th of November.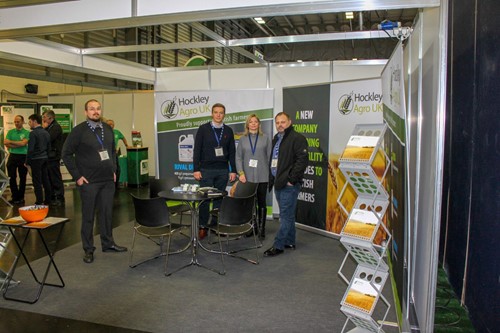 The two-day event, held at the East of England Showground in Peterborough, proved to be an excellent opportunity to introduce our new range for British arable farming as well as catch up with many distributors and customers. With over 170 exhibitors and various seminars, the show was well attended by farmers, agronomists, business advisers and scientists, eager to discover the latest developments in UK agriculture.
The Hockley delegation, led by Chairman Frank Howard, received lively interest in the company's offering of herbicides and fungicides for use on a wide range of crops, including some products from Agria S.A., Bulgaria, which are marketed by Hockley Agro in the UK. Many farmers were delighted to hear of a British company supplying a variety of generic approvals – and were especially pleased that several of these are manufactured by us here in the UK.
Hockley Agro UK's range includes options selected for the protection of cereals, oilseed rape and potatoes. To discover more about the choices available, please click the link here: www.hockleyagro.co.uk