New Products and Label Amendment from Hockley at PPC Live!
23 March 2018
Hockley International were delighted to announce at PPC Live that they are adding four new products to their environmental health range, along with a key label amendment to the granular cyromazine product they supply – giving approval for its use in waste management sites.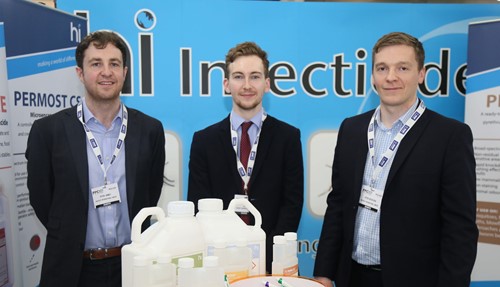 The four new products include a microencapsulation, two ready-to-use products and a microemulsion. Alongside these announcements, there were also big giveaways from Hockley at this year's event.  Many visitors on the day stopped by the Hockley stand for their chance to win great prizes including an Amazon Fire HD, Echo Dot and five portable phone chargers.
The first of Hockley's big announcements at this year's event, the label amendment to granular cyromazine larvicide HokoEx, means that the product which delivers effective control of fly larvae and has been a key product in the company's animal housing range for several years, can now also serve the waste processing industry.
PPC Live also saw the introduction of Tetrapiu and Piretrox PU, two ready-to-use water-based insecticides for professional use. Tetrapiu is a permethrin, tetramethrin and PBO formulation for use against insects in domestic premises and can be applied directly to mattresses for effective bed bug control. Piretrox PU is a formulation of natural pyrethrum and PBO. A non-residual product which delivers fast knockdown, it is highly effective for flying and crawling insect control in various domestic, civil and industrial areas.
In addition, Permex 22E – a micro-emulsion insecticide containing permethrin, tetramethrin and PBO was launched.  With broad-spectrum insect control in a wide range of environments, Permex 22E delivers rapid knockdown and long-lasting residual control. An excellent all-around product for pest control in domestic, commercial and industrial premises.
The very latest addition to Hockley's environmental health range, which is set to be launched in the coming months is Mostyn Duo CS.  A microencapsulated product with dual action, Mostyn Duo CS combines two active ingredients for effective control of a range of flying and crawling insects. Prallethrin delivers fast knockdown of insect pests and the microencapsulated cyphenothrin gives long-lasting residual control.
Hockley International, based in Manchester, has over 30 years' experience in manufacturing and marketing insecticides for use in environmental health. Hockley currently exports to over 60 countries around the world and enjoys an esteemed reputation for producing high-quality insecticides at competitive prices.
To learn more about Hockley's environmental health range visit the website at www.hockley.co.uk or contact a member of their team at mail@hockley.co.uk