Hockley International Announces Partnership with Bleu Line at PestEx 2017
02 May 2017
Hockley International was delighted to announce a new partnership with the Italian-based company Bleu Line at this year's PestEx 2017 convention. This agreement will allow Bleu Line, another family-run company, immediate entry into the highly-competitive UK market where Hockley will market and distribute a range of innovative environmental health products on its behalf.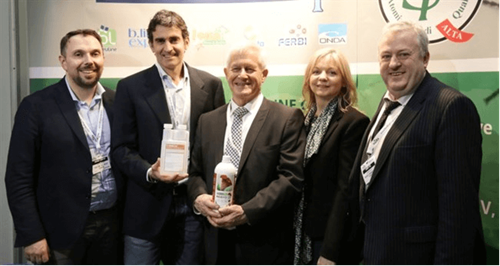 Such products include Permex® 22 E, a liquid insecticide containing permethrin and tetramethrin which delivers fast knockdown; Tetrapiu, a ready-to-use formulation which delivers fast knockdown and has long-lasting effects and Piretrox™, a pyrethrin-based concentrate which is effective against flying and crawling insects – this product is also available as a ready-to-use trigger spray, known as Piretrox™ PU.
Frank Howard, the Chairman of Hockley International, commented on the new partnership, stating: "We are delighted to have concluded this agreement with the Bleu Line - B.L. Group; two family companies working together for mutual benefit."
Stefano Scarponi, the executive sales director at Bleu Line, commented "… Hockley International has the regulatory expertise to allow us to reach markets much further afield than the UK, including some countries in the Middle East and Africa as well as Central and South America."
The launch of this exciting new partnership was a tremendous success and we received positive feedback from our customers as well as a high level of interest from both UK and overseas visitors.  
For more information, click here to read an article on this partnership featured in Pest Magazine. 
For enquiries, please contact a member of our sales team at mail@hockley.co.uk or visit our website at www.hockley.co.uk